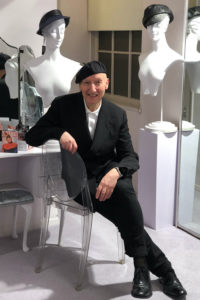 I attended the Stephen Jones AW20 It's About Time collection launch at his showroom on Great Queen Street in Holborn London with Greg Commons of The Hat Magazine on 15 February 2020.
The collection celebrates Mr. Jones' forty years of hats. The digital invite was simply and cleverly animated. The party flashed, Annette Bening winked, the feathers waved and the Underground hat changed colours. Which was obvious enough for me to look closer at the other images. It was like a little treasure hunt.

The invite features four magazine covers a 1982 Tatler, 1992 Vogue Paris, 2003 Time Style and Design, and 2013 TimeOut London. Mr. Jones' collection reinterpreted the glamorous 80's, the sharp shapes of the 90's, the frivolous and embellished 00's and the magical 10's.
We were greeted at the door, then made our way through the public showroom, past the reception desk and into the private showroom. I've been to the public showroom a few times, but never past the reception desk. I was excited. Most people were stylishly dressed, but not everyone. Many were young, but not everyone. Some wore hats, not everyone.


Relieved of our, Storm Dennis, winter outer wear at the cloak room, then primed with some Moët & Chandon champagne, the focus turned to Mr. Jones and the hats. The mood was light festive and fun a delightful contrast to the windy blustery and rainy Saturday night. Cameras were out and snapping. Staff would help people try on hats and pose for photos. It is great fun to watch Mr. Jones select a hat for a specific guest who wants to be photographed then cock his head, then give it a tilt or remove the hat off and choose another one. I wish I could hear his thoughts.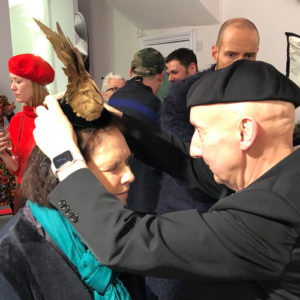 A fun combination of people; stylists, photographers, models and media mixed and mingles with a several of Stephen Jones Millinery staff. Mr. Jones is a brilliant host and speaks to his guests with humour and kindness.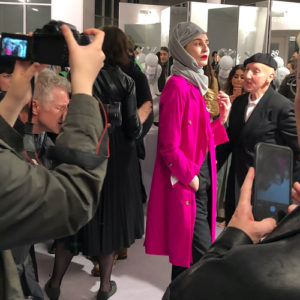 Not every milliner can have a famous personality or model appear at their events but Stephen Jones can. The excitement and buzz that these people brought with them could be felt as a physical wave of energy through the room. I do not have an eye for the famous or trending people so I had to rely on asking those near me, whose who. A few of the evening's guests who caused a stir were Erin O'Connor (runway model), Miss Fame (RuPauls Runway), and Suzy Menkes (Fashion Editor).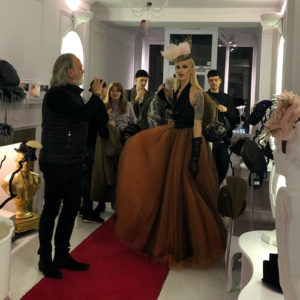 Although there was excitement about the people, the hats were the stars of the show. Here are a few hats from the collection.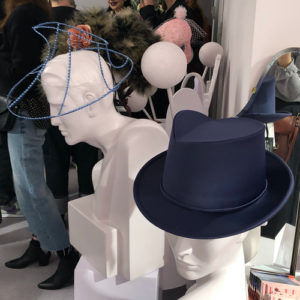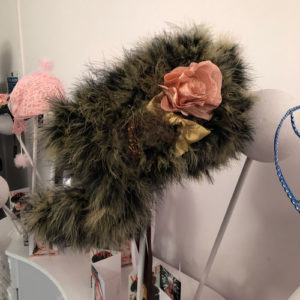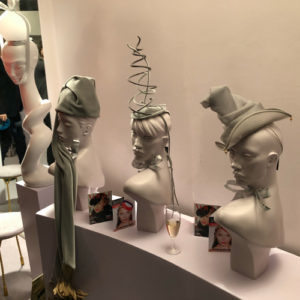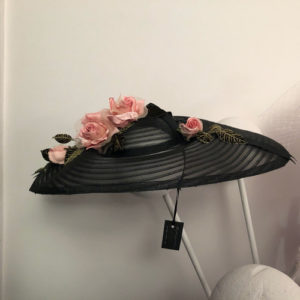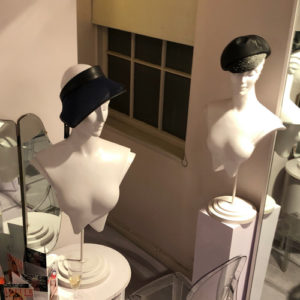 I love the details, from embellishments, to stitching and trims. The way hats make an outfit, the details make the hat.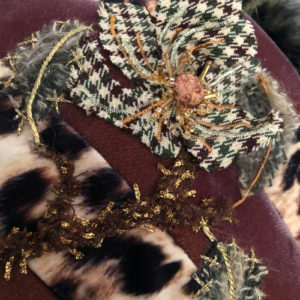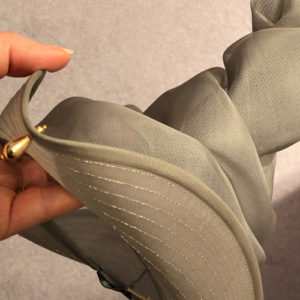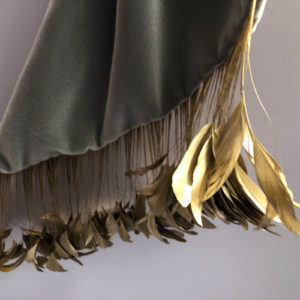 I hadn't really thought I'd be one of the last to leave, but was enjoying a lovely chat with workroom manager and her partner. Only to look around and notice everyone was heading out the door. I went to say my good byes and Mr. Jones said,"We haven't had a chance to talk." With so many people, it was lovely he noticed.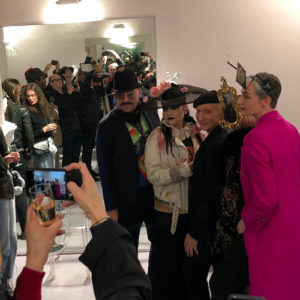 There was a simple gift bag offered when we left with marketing materials pertaining to the collection.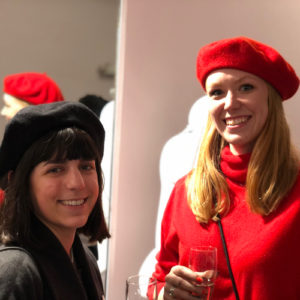 Thank you Mr. Jones, Stephen Jones Millinery team and Greg Commons for a nice evening.