Four durable Hat Cases to solve loads of problems.
Small (Traveler), Medium (Student), Large (Milliner), & X-Large (Professional)
A broken cardboard hat box string handle is miserable. A crushed hat because of a crushed box is devastating. A beautiful hat in a large paper or bin bag, because you don't have a box large enough is risky. I have a solution.
I too needed something more durable and user friendly for my hats and I found a solution. Therefore I am introducing Hattin' Around Hat Cases, the better hat box.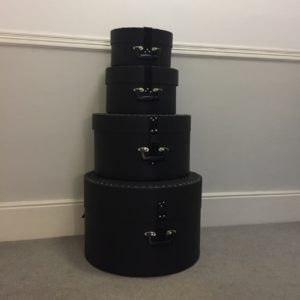 I have been using the same wonderful hat case for several years and decided it was time to share my secret. I have designed four sizes.
The Traveler which is small enough to fit in the overhead (of many airlines & trains). Diameter 13″ (33 cm) x Depth 7″ (18 cm)*
The Student which is a medium size, great for teachers also as it holds an moderately sized hat with extra space. Diameter 15″ (38 cm) x Depth 9″ (23 cm)*
The Milliner which is perfect for a large special event hat or head piece with dramatic feather trim, ie. Ladies Race Day or a special wedding hat. Diameter 20″ (51 cm) x Depth 12″ (30.5 cm)*
The Professional which is fabulous for anytime you need to transport or store loads of hats. Diameter 24″ (61 cm) x Depth 16″ (41 cm)*
*The dimensions are the inner dimension (ID). If my sizes doesn't suit your needs, consider ordering a custom size.
Do you need help deciding which one is right for you? Click here
 

All Hattin' Around Hat Cases are made to my specification.
They come with a reliable handle, robust strap and buckle closure (The Milliner & Professional have three buckles)
A flat side so it can stand without rolling away 
A completely removable lid, for easy packing
The case is made of a durable, water resistant material, to keep your hat safe while traveling, even in the rain, however it is not intended to be a waterproof case.
Notes:
Hat Case Shop Items should appear below here. If they do not, please refresh your screen.
Shipping can be expensive. Email me directly to discuss options.
Do you need help deciding
which one is best for you? 
The Traveler – Small
Dimensions: Diameter 13″ (33 cm) x Depth 7″ (18 cm)*
Suitable for a fedora size hat. Fits many overhead compartments.
This hat case works great if you have a smaller hat or hat project that you need to protect while on the go.
I designed the dimensions of this case to fit in the overhead baggage compartment of most airlines. Caveat! Please check with your preferred airline as they are all different.
The Student – Medium
Dimensions: Diameter 15″ (38 cm) x Depth 9″ (23 cm)*
Suitable for a mid size hat with space for feathers, flowers and small traveling sewing kit, or even a poupeè.
For millinery teachers and students who need extra space and durability.
I designed this case after a hat box that I acquired several years ago and have used it hundreds of times to carry my "in-progress" hats and headpieces to and from various hat classes both at college and with private instructors. In my opinion it is the perfect hat case. It is big enough to hold several hat parts as well as various odds and end of sinamay, extra felts, feathers, flowers and beads and my traveling sewing kit.
The Milliner – Large
Dimensions: Diameter 20″ (51 cm) x Depth 12″ (30.5 cm)*
Suitable for a dramatic ladies race hat or special wedding.
For milliners, ladies with a special event or hat enthusiast who have generous sized hat or dramatic feather trim.
I designed this case for transporting a special event hat. It is deeper than large cardboard hat boxes. It fits the dimensions for airline check baggage**
The Professional – Extra Large
Dimensions: Diameter 24″ (61 cm) x Depth 16″ (41 cm)*
Suitable for a massive hat or a collection of various size hats.
For professional milliners, hatters, fashion stylists, or hat enthusiast who have a vast hat collection that needs to be stored or transported.
I designed this case is for transporting several hats at once. Ideal for a photo shoot or fashion show. I have also used it for particularly large Royal Ascot style headwear. It is extraordinarily large, but it still fits through the door of my London home and the car door (if you have a very small car, it could be tricky).
The Custom Order
Available upon request, please email me with the desired dimensions and specify if it is ID (Inner dimensions) or OD (outer dimensions). Also please include you country and post code for a shipping estimate.
Shipping
Shipping is £10 within the UK. For shipping outside the UK, email me the size you want and your country and postcode. I will send you the cost of Shipping and Handling.
Important Notes
**Dimensions are approximate, there will be slight variation in finished dimensions. Please check your airline requirements and note these dimensions are Inner Dimension (ID). Please email me if you have VERY specific dimensional needs.
Each case is handmade in the UK, when the order is placed. Please allow 4 weeks for delivery.
Although water resistant the cases are not waterproof, be sensible and avoid down pours or take added precautions.
Hat Cases are sold empty. Images with additional elements are to help gauge size of Hat Cases. Model in photos is 5′ 6″.