Introducing my new baby, a Willcox & Gibbs S200 straw plait (braid) sewing machine. Here are some pictures of the machine and interesting links to 17 Guinea, Hatlines #71, Straw hats, Alex Askaroff, Mad Hatter Blog, and how to lock a Chain Stitch.
I have had two big ticket items on my millinery wish list for a while now. One is a hot block hat stretcher and the other is a Willcox & Gibbs straw sewing machine. I can now check off one of those items after winning an eBay auction a few weeks ago.

I was first introduced to the idea of a straw plait (braid) sewing machine while working at Edwina Ibbotson's. There was one that sat in the corner with a clear upturned box covering it to protect the 17 Guinea, as she calls it, from being knocked about and keep the dust off.
I am not sure where the term 17 Guinea comes from as the Guinea was replaced by the Pound coin in 1816 and these machines are later 1800s and early 1900s. According to Wikipedia a Guinea is worth 1 Pound & 1 Shilling. The National Archives estimated the value in 1880 as equivalent £69.49 as of 2017. At the time it was worth 1 stone (6.35 kg/14 lbs) of wool or 3 days wages for skilled tradesman, which doesn't seem like very much for a sewing machine.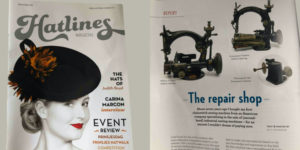 I have looked on and off over the years for a "17 Guinea" with no success. Not long ago the Hatlines magazine published by the Netherlands Hat Association, had an article about these old sewing machines. The article did a great job of showing how to clean and maintain the machines. It gave the names of several brands that I believe would fall under the name 17 Guinea and also gave me a sense of confidence in finding one.

I made several straw plait hats after taking a class from Jane Smith at Morley College, London and loved the process and the results. Jane's class taught how to make the straw hats on a standard home machine. It is a bit tricky getting around the crown, but it can be done. Ever since I've desired to work with a proper straw plait machine.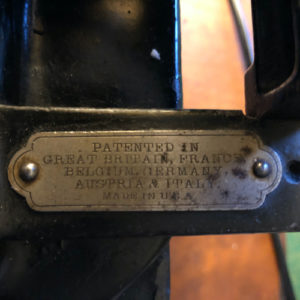 I don't buy on eBay very often and even more rarely do I win, but I had been watching this machine and another on Gumtree. It was a Friday night and the auction ended at 8:15 pm. As the last few minutes of the auction approached, I entered my highest price, into the bidding system on eBay. It automatically bids in increments only until you are one increment above the last highest bidder, then stops. To my excitement, shock, amazement and delight. I won.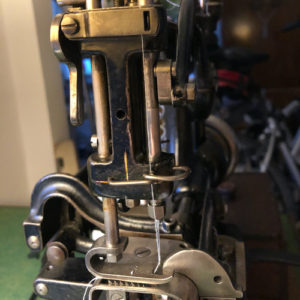 Although we have stayed very close to home in London since March, due to Covid, my husband and I adventured to Eastbourne to pick up the machine from Alex Askaroff. Followed by a stay at the Hydro Hotel. It was a good weekend.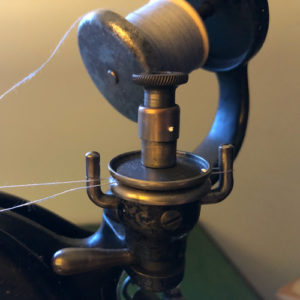 It doesn't look like much, but the new tensioner was patented around 1875, so my understanding is that this machine was made around 1880.

The video of my machine being demonstrated by Alex Askaroff.

Alex Askaroff's YouTube Channel has some great videos if you are interested in vintage sewing machines. I love this kind of stuff.

Another nugget was in the little wooden treasure box was a print out of the following blog post by Mad Hatter, Cristina de Prada from 18 April 2009. The link to Jane Smith's straw hat e-book is not longer active, but she has many of the patent illustrations which I think are fascinating.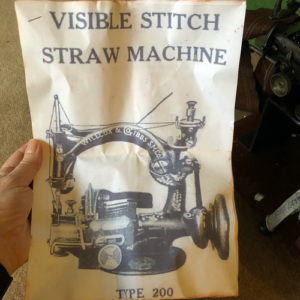 These early machine made a chain stitch, rather than a lock stitch of the current sewing machines. A chain stitch doesn't require a separate bobbin. The underside can be used as a lovely decorative stitch but the chain stitch is know to easily unravel if you break a stitch or don't lock the end.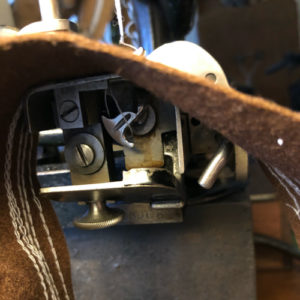 Great video on how to lock a chain stitch.
It is a different model machine but the concept is the same. Go to video at 7min 20sec for how to easily lock the chain.
Me and my "new" machine are still getting to know each other. I love the way it sews and sounds, but so far I've only used up a lot of thread and made a little navy blue straw plait bowl, perhaps it will become a cocktail hat. I am excited to get a bit more time with my new W&G S200.