I was delighted to see three different and unique hats by Kate Handley from the early 1900's in the Santa Cruz Museum of Art and History (SCMAH) archives.
Kate Handley was born in New York in 1857. The family moved to Santa Cruz sometime prior to the birth of her younger sister Maggie who was born in 1864. Miss Handley's shop was at 138 Pacific Avenue, Santa Cruz California, USA.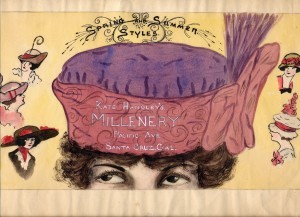 to READ MORE about Kate Handley in a post by Marla from the Santa Cruz MAH. Photo courtesy of Santa Cruz MAH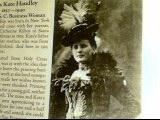 Photo courtesy 'The Guide to Old Holy Cross Cemetery' by Phil Reader and Norman Poitevin.
This first of the three hats is a brown fur felt with orange feathers. This hat was a bit worse for wear, but there is something nice about a hat that has obviously been worn.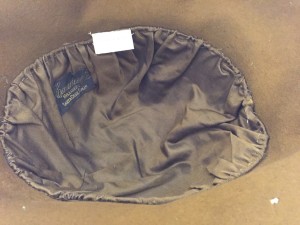 The second hat was black fur with a silk ribbon and purple pansies. I loved the hand painted canvas pansies. They added a great texture to the piece and the interesting gathered, feathers shape trim was nice touch.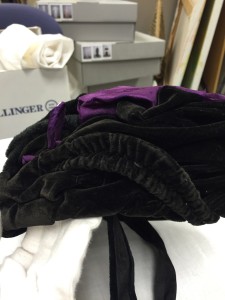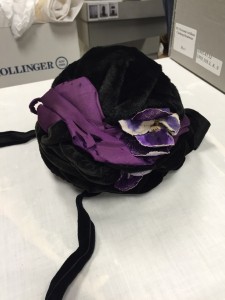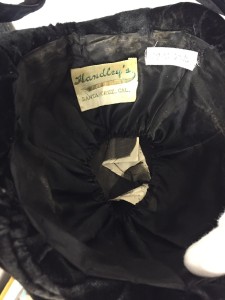 Black Straw with a wonderful modern shape and so shiny. This piece you could wear today and nobody would know it was from the early 1900's.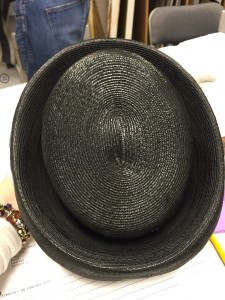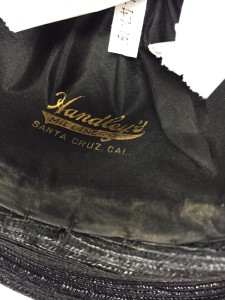 It was interesting to see such old hats.  None of the three hats had head fittings, the band around the inside edge of the hat. When did head fittings come into fashion? Were these intended to be worn on large hair styles, thus no head fitting was needed?
The linings were also very roughly sewn. I always envisioned beautiful little invisible stitches in old hats that were all made by hand. However these pieces had  large and inconsistent stitches holding in the lining. I also found the open hole at the top of the linings some what odd.  Why not draw the hole closed or put a small disk to cover it for a more finished look? Ventilation? Conserve fabric?
The labeled side of the black hats were soiled by what looked like make-up, but I would have thought the label would be in the back and the make up from the face. Peculiar. Any one have any ideas? Were labels put in the front of hats rather than the back?
All three of these hats have Kate Handley labels, however each label is unique. If I were to guess, I would say the black fur with the pansies is the oldest, followed by the brown felt with the black straw being the newest. That label was stamped and not a sewn in label.
Kate Handley died 5 December 1940 and is buried in the Old Holy Cross Cemetery in Santa Cruz. She never married or had children.

Thank you Marla Novo from Santa Cruz MAH and Tina Brown from Ilka Style for this very fun morning of looking at amazing hats from the archives.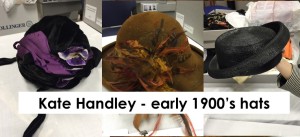 and remember…Interesting people wear hats.