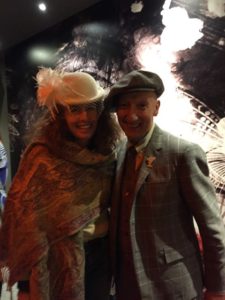 London Hat Week 2016 (LHW2016) was a success! My workshops were well attended with good reviews.  I packed in as many event as possible and loved the variety. Everything from the Hat Walk with Laird Hatters, Champagne High Tea at the Villandry, The Hilary Alexander and Stephen Jones interview at the Dirty Martini, Hat Exhibition at Coventry University in London and movie night at The Cinema Museum to watch the documentary, Mad about Hats. Here is my summary of the week. Note: the following video sometimes loads slowly.
London Hat Walk and Interviews from Phase 7 on Vimeo.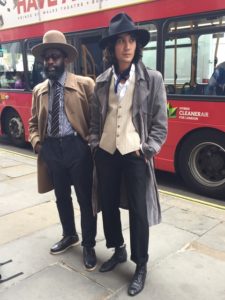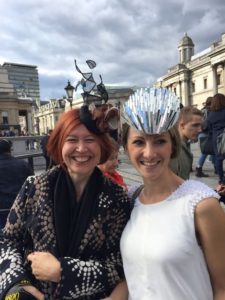 Hat Walk with year was a little different than the last couple and I'd say very successful. Laird Hatters sponsored the event and we were treated to a spot of tea and cake at The Espresso Room to start our journey at their New Row shop and a reward for finishing at their shop on The Strand with a lovely chocolate and a little tipple. The walk route was good fun featuring a leisurely stroll to Trafalgar square, where we stopped to take photos, chat and regroup, then continued on to the end point. I met several fabulous women from the Red Hat Bees of Bardwell, a woman from Scotland, as well as the Netherlands and Spain.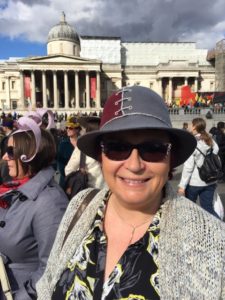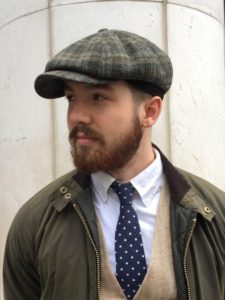 There was also an Interview of Georgina Abbott and Becky Weaver, Founders of London Hat Week.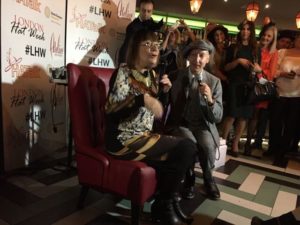 The Stephen Jones interview by Hilary Alexander was absolutely charming. The two had a lovely chemistry that comes from years of working in the fashion industry where they were familiar with the same people over many decades. The venue, Dirty Martini was fun and interesting but ill suited for this event. Many of he attendees I have met over the years. It felt like a fun reunion.
The Market Place venue had amazing murals and architecture, but I stayed focused and true to my mission to explore the millinery supplies. 😉  I alway love a chat with Catherine and Owen of Guy Morse Brown.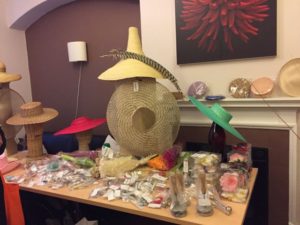 I bought a few bits from Masario and some felts and Petersham from Parkins.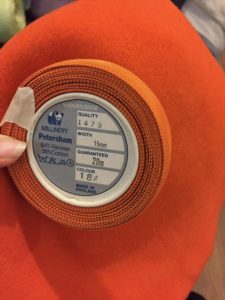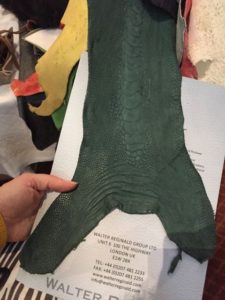 I am looking forward to heading over the East London to visit the ladies at Walter Reginald, leather specialist. They were fantastically helpful and educational. Who knew there is Ostrich leg leather. I am also wanting to try out fish leather. I touched it for the first time, and was surprised at how "leathery" it felt.
Hattin' Around Classes and Milliner's Roundtable at London Hat Week 2016
@Mrs_Gaskett picture on instagram of nautilus she made in class.
A Study of Peaks workshop covered a lot of tips and techniques on materials and shapes.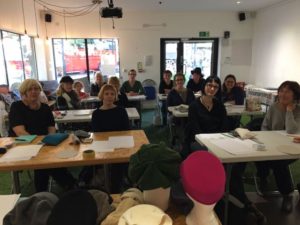 Milliners Ribbon – Petersham workshop, learning about basic things, how to make a head fitting and shrinkage to advanced trimmings such as Cockades and the Nautilus. I also demonstrated how to do some vintage trimming from hats in the V&A Museum of Childhood collection.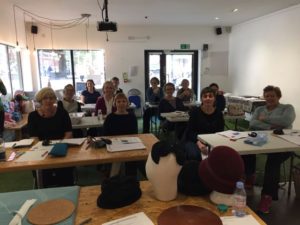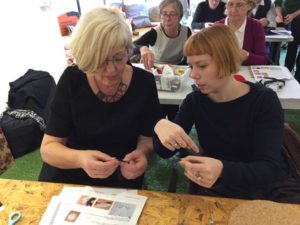 The students were a delight. I had people from all over the world with varying levels of interest from ladies who have been in the millinery business for 20 years, to others who enjoy it as a hobby. I received great reviews and everyone said they learned something new.
A big huge thank you to Baxter Hart and Abraham for their generosity of ribbon and information about Petersham. Go see them for supplies, they are in Luton and have always been wonderful to me. The best part is they are patient with new milliners.
Milliner's Roundtable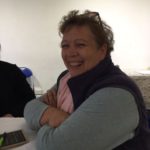 There were lots of good tips from the Milliner's Roundtable.  A mix of milliners  from Australia, France and a strong showing from the UK crowd.  Several ladies from the South London as well as two who are near the same village in southern England, who knew of each other but had never met. Here are some ideas to help build awareness and a following that I really appreciated:
Giving talks at a local venue about hats or hat making?
Doing a charity fundraiser that features your hats, like a ladies tea with hats being modeled?
Approaching an empty shop owner who might appreciate an attractive window display while waiting for a new tenant.
Champagne High Tea at the Villandry was fun, but perhaps a poor choice of events to attend, as I had cut out refined sugar and alcohol from my diet. I have been to better venues for High Tea in London, but I always like trying some place new. The best part was getting to chat with charming people from the UK and Europe. We even swapped photos of hats we liked at the exhibition.
Movie Night at The Cinema Museum, the Museum is in the Victorian magnificence of the old Lambeth Workhouse, where Charlie Chaplin spent time as a child, in Kennington.  It isn't the easiest of places to find but it is a treasure.  I joined other milliners to see an informative and interesting movie about the making of fur felt, the plight of the beaver and the impact of mercury used in hat making. Mad about Hats was a labour of love for director Olivier Vandersleyen and his family. Here is the Mad about Hats trailer.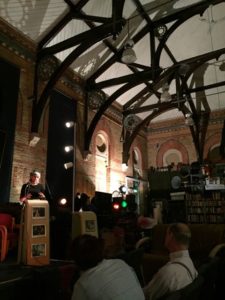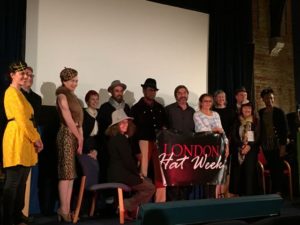 I am seated in the grey fedora, next to the sign. The director and his wife are standing behind the sign, hatless.
Hat Exhibition at Coventry University, London was a sight to behold. Hats from around the world in many ways. I posted several pictures on my Facebook page.
So much of millinery and hatting is done in isolation, at least for me. Late evenings or while my children are at school. London Hat Week is an opportunity to connect with people of similar interest from all over the world.  Thank you Becky Weaver of HATalk and Georgina Abbott of Atelier Millinery for creating this wonderful event.  I look forward to more at the next London Hat Week is planned for Spring 2018, dates TBD.