A long weekend trip to Amsterdam with my family and a quest to visit their local hat shops. I found an artist collective, two great hat shops, a nice fabric & haberdashery, and a funny hat lamp.
Artwear Jordan – Brouwersgracht 145
An artist collective with a focus on women's fashion, beautiful linen garments, felted hats and jewelry. The founder is a woman from Marin, California. I find American expats all over the place. She was charming and I could have happily worn any of the pieces in her shop.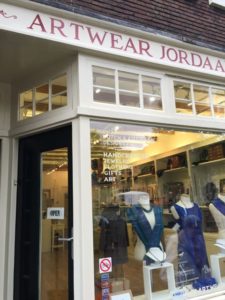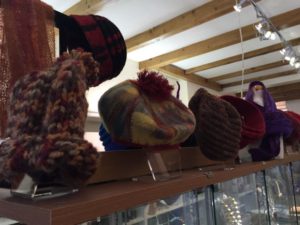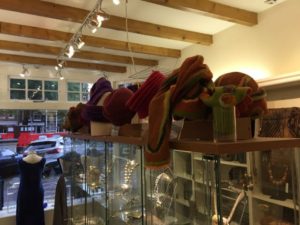 De Hoed Van Tijn – Nieuwe Hoogstraat 15
A tall gentleman greeted me and graciously answered my questions and allowed photographs. This shop is a mix of hats, not only mens's and women's styles but also covering many price points. There are some nice factory hats as well as couture pieces. He told me that his husband designs some of their hats, along with several other milliners. They were arranged by color rather than by designer collections which made for great pictures.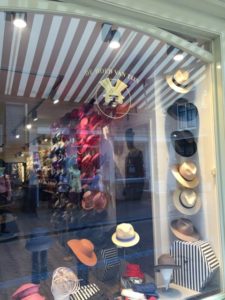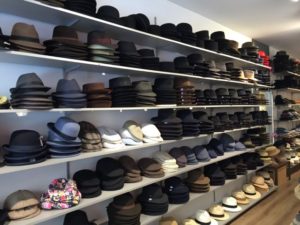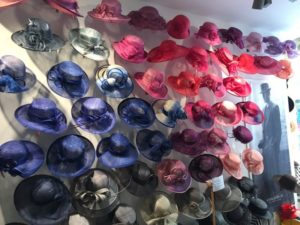 A. Boeken – Fabric & Haberdashery – 31-35 Nieuwe Hoog Straat, Centrum
A respectable fabric store with a vast assortment of fabrics. They take up about three shop fronts, each one unique, with a focus on different things. There was also a lovely yarn shop next door, called Stephen and Penelope Fine Yarn. As you can see in the picture, I was not the only one who was distracted by these shops while walking by.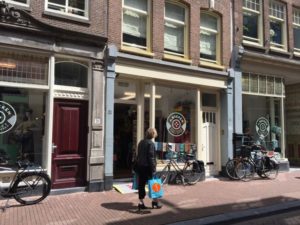 Oh, good heavens! There is nothing like encountering a "Body Power" naked bike ride while walking over to the last hat shop. I hope you appreciate my careful picture selection of the cyclists from a rear view, having gone past us.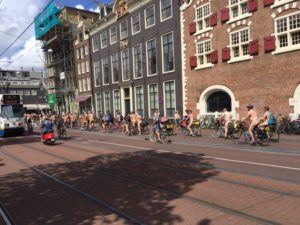 Hoeden M/V – Herengracht 422
A beautiful hat stop and a charming young woman, Bronte, who was gracious and welcoming, to my rather bedraggled family. The shop was really nice with several enchanting displays and variety of hat styles for men and women. They sell pieces from multiple milliners and also have their own brand, called Bronte which is designed by the young woman's mother. They have shops in Dusseldorf & London. I haven't been to the London shop yet, but I will go, soon.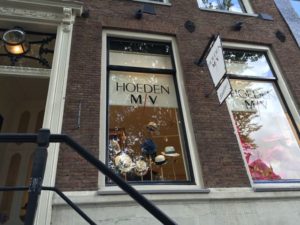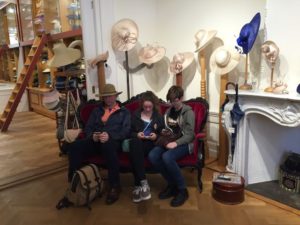 On a different topic, I love apple pie. In fact I am a bit of an apple pie snob. It needs to be made with fresh tart apples. Overly sweet, mushy canned apple are extremely disappointing. I have had some amazing apple pies as my Grandma made fabulous apple pie for Thanksgiving every year in California. In California, when ordering an apple pie, you would often have a choice of Apple Pie or Dutch Apple Pie. It wasn't until I was putting my fork into a glorious big slice of apple pie at Winkles in Amsterdam, that the little a-ha moment happened and I thought, "This is real Dutch Apple pie." Here is a picture,  as you can see, it does not have a crumble topping. I wonder if it is another example of the word Dutch, being confused for Deutsche, the word for German.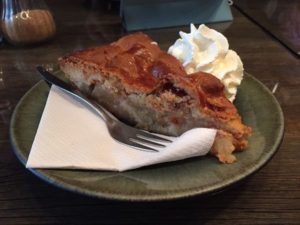 Amsterdam is made of many canals. Brewers canal was gorgeous and our AirBnB place as very small, perfectly eccentric and right on the canal. It was very picturesque.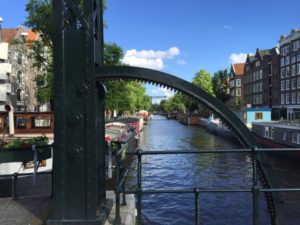 I love second hand shops and we came across a large one – Episode. It had lots of hats. Actually they had lots of all kinds of clothing and accessories. I escaped without buying anything this time.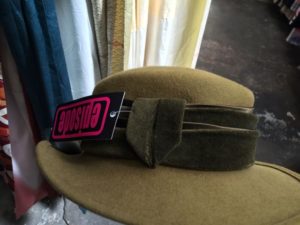 Perhaps the most unusual hat item of the trip was a red hat lamp in a store on the square in Harlemmerbuurt.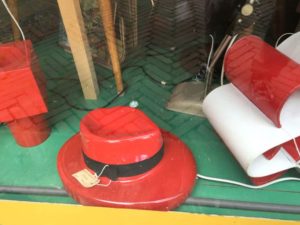 I dramatically under estimated the bicycle culture of Amsterdam. If I had not taken the picture myself I would think it was a commercial for how civilized a cycle culture can be. This is at the back of the train station by the ferries.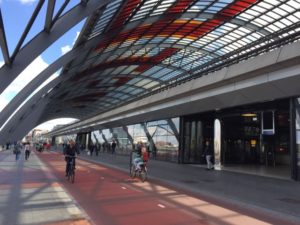 I am curious as to how they manage the derelict bicycles. Our small block of flats here in London constantly struggles with too few racks to lock our bikes as there are old rusty bike that remain locked to the rack, long after their useful life and likely the owners have moved out of the building long ago.
I possibly should have called my blog Hattin' & Bikin' around as I love riding my bike. In Amsterdam it is not just a commuting method it is a way of life. These are not what some Londoners call the Lycra brigade, the cyclists in their road racing kit that do battle with London traffic every morning and evening. In Amsterdam, people take their kids to school, pick up the days shopping and go visiting friends, using their bikes. Take a look at a few of the cycle parking lots that were particularly impressive. The first was a triple layer structure outside the central station, little did I realize there was another one on the other side by the ferries.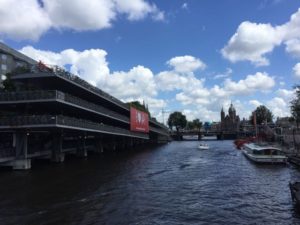 How about the cycle parking near a concert venue!

Amsterdam was a complete delight with many unique features. It was not the legal prostitution nor the pervasive aroma of canibis smoke that was the most stimulating for me, it was the bikes, and the fabulous hat shops. If you get the chance, it is a lovely place to spend a long weekend.
and remember, Interesting people wear hats.