The Vulgar Exhibition, an exhibition that explored the term Vulgar hosted at the Barbican, a brutalist multi-arts and residential center in London. I wanted to see if the exhibit could reveal the magic line between ridiculous/inspiring and vulgar.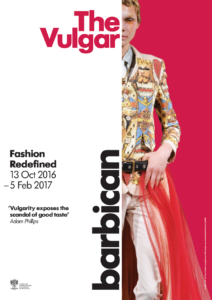 I can generally glean a nugget of knowledge, from everything I do and London has really good exhibits from Barbican, The Crime Museum Uncovered, with photos and displays of evidence and their strange stories to the V&A, Alexander McQueen show which I went to at least 5 times and found something new to look at each time, and the recent The Vulgar exhibit which explored the term Vulgar and how it has evolved and different interpretations of the term highlighted through fashion and literature.
Vulgar originated in Latin as Sermo Vulgaris meaning common speech as opposed to the more formal and social dialect of classic Latin. The use of vulgar meaning common has evolved into meaning a lack of good taste or explicit and offensive.
Sparkly Bra dresses range. This was exactly what I am talking about in this blog post! I love the first one, it is interesting, exciting and inspirational. The all black one is good also. The third pink I think is a bit ridiculous, and there is an element humor as she looks like she is wearing a crown. Finally the last one, I really do not like. I will need to reflect further these to see if I can figure it out. I would love to hear if you have any ideas you have on what makes the first won great and the last one not. Or perhaps you think differently, I'd love to hear that also.
Rudi Gernreich's 1960's Topless swimsuit was so shocking it had to be displayed for exhibit on a wall rather than a mannequin. I don't actually find it offensive, but I am sure there are some who do.
I fear being seen as lacking in good taste, but I refuse to be restricted to conservative tailored clothing. I must have a bit of an edge to be truly content. However when it comes to designing I often get caught in the trap of wearable, sell-able, and tasteful which can be very limiting.
I had hoped the exhibit would explain/reveal that secret zone that is edgy, exciting and breathtaking without falling over into vulgar. Yes that was a bit much to ask of an hour in an exhibit. To explore the exhibit more take a look at New York Times. However I have a sense that I am closer to my goal, and that it isn't about a mysterious zone that is agreed upon by everyone but a place within myself which I must explore and ultimately trust.
Now I need to figure out how to banish the fear and the voices, internal and external that judge.
Exploring the fear
I fear the place of mis-aligned, drawn-on eyebrows, crocheted tissue box covers, cheap plastic anything, and ugly sparkly sweaters. Imagine my surprise that here in England there is a deliberate ugly Christmas Jumper tradition.
Exploring the voices that bring fear and doubt. The voices that I recall from my youth that would say, "look at that outfit" with the tone of admiration verses the same phrase with the tone of disgust. How to banish the voices that confine me?
My own experience of revulsion at design and craftsmanship. The earliest I can recall was at the Twin Sisters boutique in San Jose, California. My grandma's neighbor and her sister created this business venture which was really just a garage sale.
I love flea markets and garage (boot) sales. Amazing treasures can be found for just a bit of money, allowance money when I was a child. So when I was young, while visiting Grammie on a weekend, she said, girls (me and my sister) lets go down to the sale. I had a bit of money to spend, perhaps Grammie gave me a couple of coins, I don't recall. I was excited with the prospect of a new treasure and supporting Grammie's friend in her new business.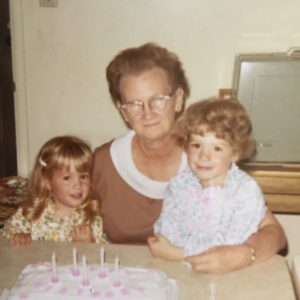 It was awful and I was disappointed. The things she and her sister had made were the most poorly made things I'd ever seen. I truly believed I could do better. Now granted my Mother is a master seamstress, with a good eye for colour and has taught sewing, so perhaps my standards were higher than your average girl of about 7 years old. Grammie insisted that I get something, but there was nothing I felt was worth my few coins. Finally, Grammie gave me an understanding glance and said, "just pick something", so I chose a tacky lopsided pot holder with crooked stitching and fraying seams.
I fear having someone look at what I make with the horror and revulsion. Intellectually I know this is highly unlikely, but it is a non-rational fear.
A Friend who makes Monsters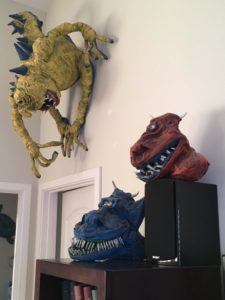 Tamara is the most organized person I have ever met, in what appears to be every part of her life.  She manages the household accounts with a masterful use of spreadsheets. She hosts parties where she makes beautiful food and is dressed before the first guest arrived. She works at either a job or her own business, is a mother, wife and considerate daughter. Her personal dress is conservative and classic. And if that isn't enough she has a hidden side, she makes monsters. The most amazing creative creatures. Usually with sharp teeth or long claws, but they contain a magical balance of whimsy and ugly to equal amazing.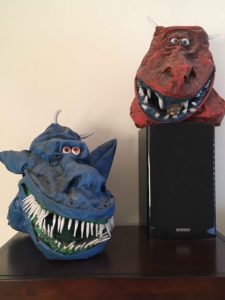 Somewhere in craftsmanship and design is a magical place of beauty. Tamara's monsters were inherently ugly but in such a sweet way and the attention to detail of each one is superb. Where as even simple square-ish pot holders from Grammie's neighbor were vulgar.
The Vulgar was an interesting exhibit but it ultimately failed to reveal the secret sweet spot of where the brilliance of creativity and design tips over the top and slides under the bar, into tacky and repulsive. I think there is an element of superb craftsmanship that moves the bar. If the exhibit was still on, I would go again but more slowly the second time.
Hats Included
A bit more about hats and head pieces at The Vulgar exhibit. There were some divine Viennese bonnets from the Wien museum dated 1780-1810. I didn't find any photos or links.
There was a reference to Sally Victor's Mondrian style hat which to my delight I saw at the High Style exhibit and the Legion of Honor in San Francisco, May 2015. The Vulgar explored the ideas of imitation. I gathered a few images together featuring the Mondrian style.
Imitation vs. Inspiration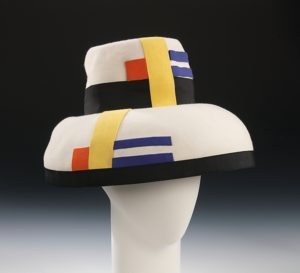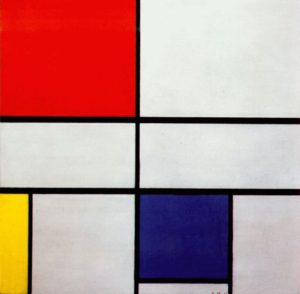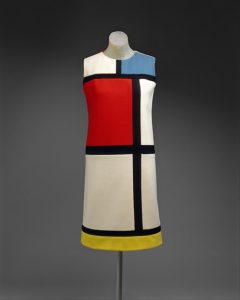 In addition, at The Vulgar there were hats from Philip Treacy, Stephen Jones and a couple more, which I should have written down. Hats were not the focus, they rarely are in exhibits, but I was pleased they at least were given some attention.
The quest in finding my artistic voice continues. I would love to hear about your quest to find your artistic voice.