I had the joy of seeing many of my hat class friends put their hats out for sale at both Temple Church and   Morley College Winter Fairs last week. The cold brought out the winter hats "On the Street" at Somerset House, and my daughter made me a tree ornament. Take a look.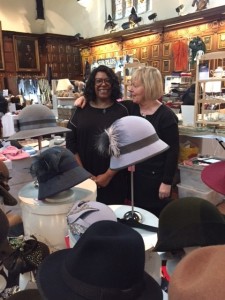 Holiday Markets are always fun. I love seeing the amazing creativity and craftsmanship of people, especially my friends.
The first was a fantastically hidden market, the Temple Christmas Fair on Thursday, 3 December at the Middle Temple Hall. It was an intense and beautifully dark carved wood venue with gorgeous products for sale. A couple of hatting friends from Morley College and Edwina Ibbotson's were selling their own custom made hats. Petula and Maggie must not have slept for a month prior to the show. My picture above only shows and few of their charming hats.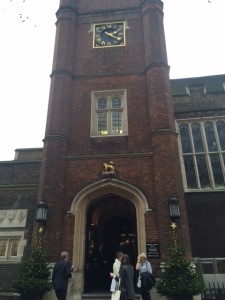 Not to go too far a field, but the Temple Church was selling a book at one of the stalls that was about the truth and fiction of the Knights Templar and the Temple Church in London. I had no idea that going to a Winter fair was going to link up with the Knights Templar from the book Da Vinci Code. I love London.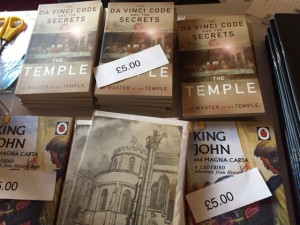 Morley College hosted its Winter Fair on Sunday, 6 December. Many of my Jane Smith, Hat Class friends, Stefania, Dusia, and Clare, were there with their hats, even Jane herself. There were so many hats that they ran out of display space. Morley is also a lovely venue and the main hall has large murals along both walls, that deserve more than a passing glance.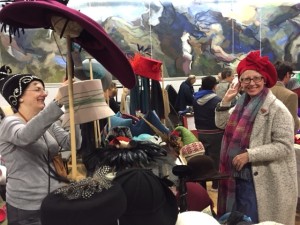 The Somerset House is hosting outdoor skating this Winter and Fortum & Mason have taken over part of the building for a swanky Pop-Up Shop.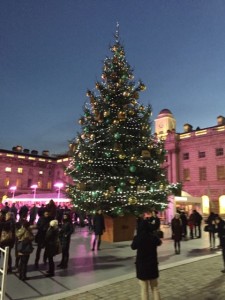 One of the best parts of this time of year is that it is cold and people on the streets are wearing warm hats. These lovely ladies allowed me to capture them while doing a bit of shopping at the Somerset House.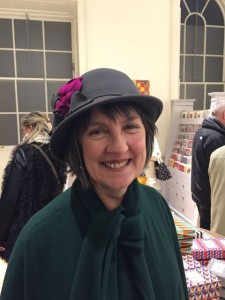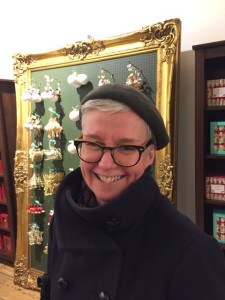 Hopefully I will be organized enough next year to post the dates of these fairs before they occur.
Also on the winter hat theme, my daughter surprised me with an adorable ornament for our tree. She made it while I was out at the Morley Winter Fair, from a shape found online and a piece of Harris Tweed from my fabric stash. It even has the date in the loop.  The second best part…she cleaned up the project mess before I got home. I love her and my new ornament.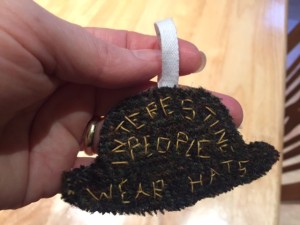 and remember, Interesting People Wear Hats.