Quintessential spring time in Vienna includes sightseeing, cakes, coffee, music and of course hats & their makers. With so many different delights in Vienna, it was hard to decide where to start, but Szaszi Hatters was a real gem.
Szaszi Hatters since 1858 specialize in high end Gentlemen's custom made hats.


We showed up without an appointment and were loitering outside the door after pressing the door buzzer when Mr. Shapira walked up behind us. He was stern but welcomed us in through the door, down the hall, into a courtyard of sorts. We waited a moment for him to drop off some keys.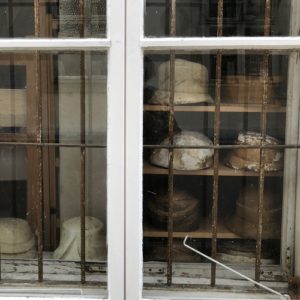 My friends, Andy & Rebecca (who thankfully speak German) and I gawked at hat blocks through the window, and when Mr. Shapira returned, he led us into his workshop.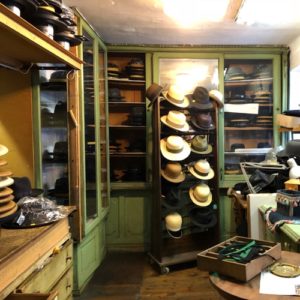 There is something magical about being in a craftsman's space, an energy, a vibe. I can feel it. Old wood, used tools, pots, and tins of various concoctions. He showed me a pot of actual shellac which is rarely used in hat making any more, at least within the group of milliners that I know. It appears that Mr. Shapira does everything the old fashioned method and there was even a conformature on the side of the blocking table. His hats are made from very fine straw or rabbit, beaver, or mink fur. I desperately wanted to ask where he gets mink felts, but didn't want to overstep my welcome. I do feel that I was of some help, as he showed me an unfinished top hat for Royal Ascot. I mentioned that Royal Ascot was in just a few weeks. He seemed pleased with the reminder that the deadline was coming up soon.
When traveling with friends, I have to be mindful that I cannot expect them to be as keen on hat shops and workshops as I am. Some basic sightseeing is required before the hat seeing can begin.
First there was rum, wine and water on the roof top of the Ritz at sunset, then Sacher Torte at the Sacher Hotel, Mozart's Requiem at Karls Kirsch, Nache Markt for a Viennese lunch, coffee and cake at Demel's, and finally some Art Nouveau style art & architecture to admire. I was elated to be in the presence of Klimt's art as well as learning about Egon Schiele and Oskar Kokoschka. As you can see my interests are mostly food, art and craft, however I appreciate that it takes the history of a place to glue it all together.
One of the hat shops was at the Karlsplatz subway station, Collins Hut & Mode.
Conflicted, is how I felt when stumbling across this hat shop as I dashed to meet up with friends. Despite not being able to have a proper look about, I did snap a few photos through the window. I wonder how the crushable red hat looks and feels while wearing it. I was concerned about their signage for a natural straw hat. I know that Panama hats are made in Equador, but just because it is made in Ecuador does not make it a Panama hat.
Ah, Vienna, nibbling an apple strudel, while admiring hats on the run to meet friends. It was all good.
Mühlbauer have been hat makers in Vienna since 1903. The shop was airy and modern. The lovely woman running the shop at Seilergasse was generous in letting us try on hats and take pictures. There were many inspiring styles. I loved a navy beaver fur hat in a simple shape. The straw cap with a peak has been on my "to make" wish list for years. I liked that their hats have a tags signed by one of their milliners. Another nice touch, is how they indicate the front mark with a stitched arrow, which is simple and effective. They have another retail shop and actual workroom in Vienna. If I make it back to Vienna I will definitely go visit them.
Next door to Szaszi Hatters was Pelzhaus Fuss. Discovering something wonderful along the way is one of the best parts of travel. Pelzhaus Fuss specialize in fur and leather, however Spring hats are generally straw and cloth, and it is Spring, so only a few fur pieces were on display. The real highlight for me was the mural, freizes and the ceiling decorations. I was told they have been there 100 years.
I am such a hatter/milliner fan girl, it is a bit ridiculous and thankfully my friends were kind and generous to embrace my excitement and delight in meeting Mr. Shapira and visiting his workshop as well as the other lovely hats and shops in Vienna.

Gustav Klimt is one of my favorite artists and it was a thrill to see The Kiss and Judith up close. I also enjoy capturing the hats from hats painted through the centuries. Napoleon's bicorne is magnificent.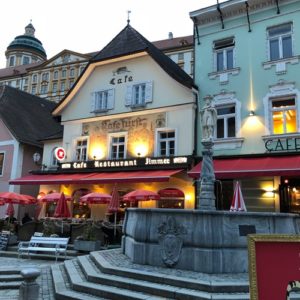 A train ride to the lovely village of Melk on Monday afternoon allowed for dinner in the square. The next day was a visit to the Melk Abbey which has the library of my dreams and two gorgeous globes. One globe shows California as an island off the west coast of North America. I wish I had a picture. They also had a couple special exhibitions on color and texture. Both were enjoyable and interesting.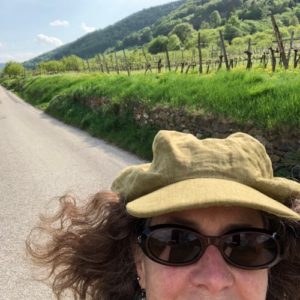 After visiting the Melk Abbey we hired bikes and rode through the Wachau wine region and along the Danube to the village of Krems.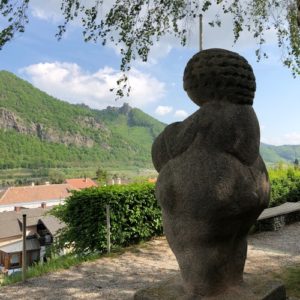 We had intended to ride along the south side of the Danube, but the path was closed. We had to go along the north side and I am so glad that we did. The villages and the vineyards were lovely but most importantly we rode into the village of Willendorf where the Venus of Willendorf was discovered nearly 110 years ago on 7th of August 1908. They estimate her date at 24,900- 23,900 years BCE. In real life she is 11.1 cm (±4 inches), but they've placed a much larger statue of her at the discovery sight, and she looks over the Wachau valley and Danube River. I would do that cycle ride again, but with a little more time to allow a few stops for some tasting along the way.
I hope you enjoyed Hattin' Around through Vienna with me. If you've been to Vienna, what were some of your favorite things?