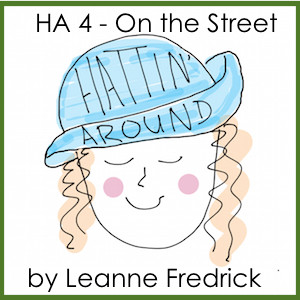 I take to the streets of London to see what hats people are wearing a cool day in March.
I usually ride my bike to hat class but not today, I had a meeting after class. I love riding my bike. I ride for sanity, fitness and transportation, and on hat class day it is for all three. However on the days that I cannot ride, the best part of not riding my bike is I can wear one of my adored hats, or test drive a new hat. This day I choose my grey fur felt fedora. I will do a podcast about this specific hat at a later date.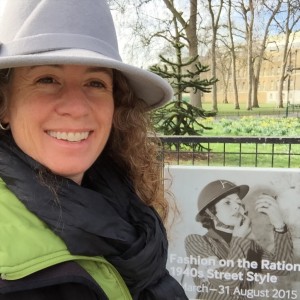 On my walk to Morley College from the Elephant and Castle tube station, I noticed a sign for a new exhibit at the Imperial War Museum (IWM). I have not been yet, but I will go see Fashion on the Ration – 1940's Street Style, apparently they are also offering a 40's style lunch for group bookings. I'll have to go check it out.
Just after snapping a photo of me in front of the sign so I don't forget. This is my current note taking and reminder system…take pictures of it.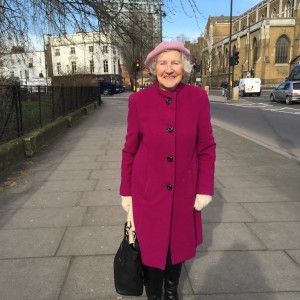 As I set off down the street a striking older woman approached.  She was so lovely and I was only a little late for class. I asked if I could take her pictured. She agreed and then promptly told me she was 87 years old. She was absolutely charming with her magenta coat, dusty rose wool felt beret and large single pearl hat pin. We had a lovely chat and I learned that she is a turn local Londoner. Born just a few block to the West side of the IWM, moved a few blocks to the East side of the IWM at age 6, then to the North side when she married at 22, where she's lived ever since.  We parted ways and I went off to work on my 1840's style straw bonnet.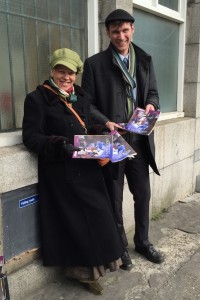 After hat class I set off for Oxford Street by way of the Lambeth North tube station. Still feeling brave (Brave is my word for the year) and energized from my successful encounter with the little lady in pink, I mustered the courage to ask these two people if I could photograph them in their hats. They were surprised, but delightfully agreed. The lady in the green wool hat was from East Africa and the man in the black cap was from Germany. I love the diversity of London!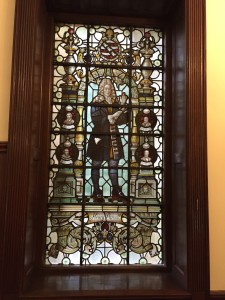 I headed across town just after class to take a look at the venue for the London Hat Week, Milliners' Questions Time event, that I am moderating. Tickets are now available for £16, so if you are interested, follow the links. It is in a listed building and I've attached just one of the beautiful stained glass windows.
A walk down Oxford Street is always a wonderful time in people watching. There were many people wearing your basic knit hat in all its various forms, there were a few deer stalkers and the occasional fur cossack.
This lady was happy to allow me to capture her cowboy style hat.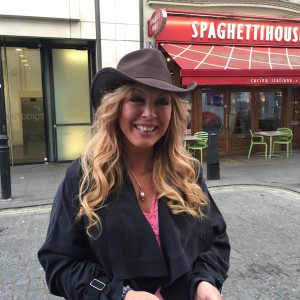 My biggest challenge of the day was the flat cap. There was something about the gentlemen wearing the flat caps, and there were a lot of them, but I just didn't feel comfortable approaching them. However, this kind man agreed to pause a moment on his hurried run to the tube station. I just adore the flat cap and his smile.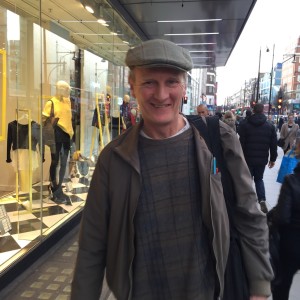 Spring colors in the Oxford Street windows – It is all about yellow and blue. From children to adults to handbags, yellow is everywhere with compliments of blue.
Current Events
Austro-Hungarian Empress Elisabeth's riding hat fetches 134,000 euros (110,500 GBP, 186,500 USD) at an auction in Vienna on 5 March 2015. If that isn't if hats can appreciate in value and not just in the eye of people, it I think we can look forward to seeing more hats around town.
Empress Elisabeth, called "Sisi" by family and friends was a beauty and free spirit who continues to intrigue biographers, novelists and film makers, was assassinated by an Italian anarchist in 1898. for more information see the article in
Reuters.
Thank you little lady in the pink beret, you made my day.
And remember, interesting people wear hats.