Late at night when everyone else has gone to bed, I get into the hat zone. I work until the wee hours and occasionally into the next morning. Recently this has been while having a great time learning from and teaching Live Virtual Millinery Workshop .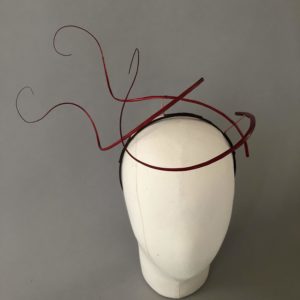 When I get to a stage where I am tempted to start taking things apart and redoing the whole thing, that signals bed time. I set down the scissors and back away. Ideally, I do a quick tidy of the work space and put the hat on a poupée, which doesn't alway happen but is always appreciated by my future self when it does happen.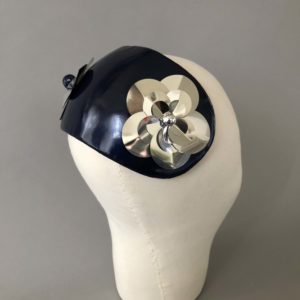 Then it is off to bed for a few hours of rest before the next day begins in earnest.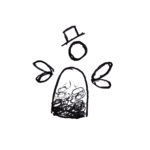 In the morning when I get up I say, "I wonder what the hat fairy brought last night." Making my way to my home studio, I look at my piece with fresh (overstatement) eyes. There are three possible reactions.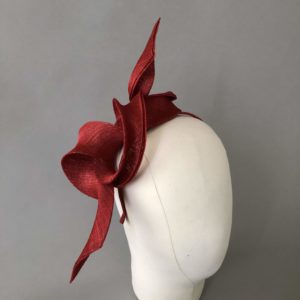 Reaction one, is joy and delight, it is beautiful and well worth the loss of sleep, maybe even a little pride in the thought "I made that." Which is followed by me wearing the hat around the house while still in my nightgown. I feel fired up and want to make another hat.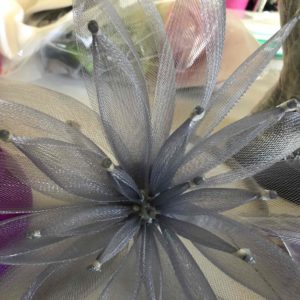 Reaction two, the big let down of disappointment followed by why did I invest so much time into that awful looking thing. I should just throw it away. Followed by, I can't throw it away that is wasteful and it may be a useful sample of a technique or I might be able to fix it. The reality is there are so many unfinished hats and so many more yet to be created.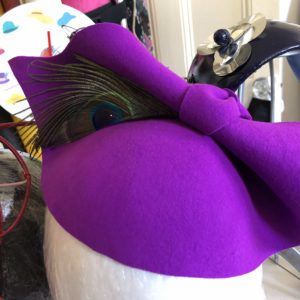 Reaction three, which is by far the most common one, which is in between the other two. Pleasure with a tinge of disappointment. I like it in general but something isn't right.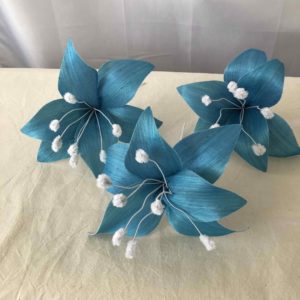 The current problem by far is the multitude of unfinished hats.
The red Swirl Sinamay and red Floating Quills just need the labels, the green Macintosh Rose need a lining and the label, the grey Kakadu Lily needs something in the centre, and the label, the white Veiling Brim with Crinoline Roses needs the trimming sewn down, the base attached and the label. The giant blue Silk Abaca Bow needs a whole hat to put it on, as do the Silk Abaca Lilies.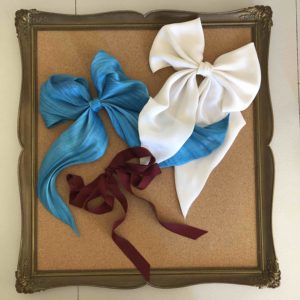 These are only a few of the hats that I have made in the B Unique Millinery Virtual Live Workshops which started shortly after the Covid-19 Lockdown. The workshops have been a safe haven of creativity and camaraderie.
Please keep in mind that these pieces do not reflect the skill of the tutor, only my interpretation during a 4 hour workshop.
Workshops
Red Swirl Sinamay and Red Floating Quills with Rebecca Share
Grey Kakadu Lily with Sandy Aslett
Blue Silk Abaca Lilies with Tracey Wells
Blue & White Bows with Neil Grigg
Electric Violet Free Felt with Katherine Elizabeth
Veiling and Veiling brim with Jenny Roberts and
Crinoline with Alison Clark
Green Macintosh Rose by Me, Leanne Fredrick
Next workshop on 31 May/1 June 2020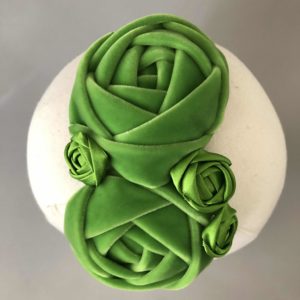 Rolled Edges and Rouleaux by Me, Leanne Fredrick
next workshop 9/10 June 2020


There are more Virtual Live Workshops on the B Unique schedule.
And Live Virtual Workshops with Me, Leanne Fredrick coming soon to Hattin' Around.
p.s. Live Virtual workshops are working out really well. Although nothing beats human connection, there are some elements that make the Live Virtual workshops even better than in person.
Travel is cheaper
Workspace is tailored to personal preference
A close up camera is great for small details
Mute and unmute for noise control
Step away without disturbing the rest of the class
and you still get to know others in the workshop