Hurray a new millinery supply place in town that is close to me. This could be dangerous.
Back in October, I rode my bike over on a Tuesday and was greeted by the owner Michelle.  Petershams.com has been around awhile online, but has just opened a physical shop at  The Art Works Elephant which is around the corner from the Elephant and Castle tube station in London at Elephant Road & Walworth Road. Look for the orange door inside the courtyard.
Petershams has a lovely selection of sinamay and feathers.
Shelves of basic hat bodies, combs, headbands, veiling, etc.
And a few skeins of strip straw. This red was so amazingly vibrant. I was very tempted, but I already had a table full of feathers, sinamay, and tubular crin.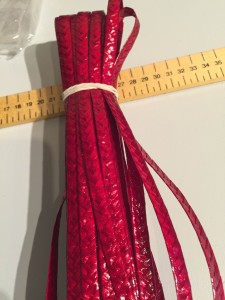 Let us not forget the petersham ribbon.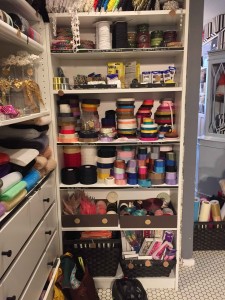 The shop is small and does not have every size of every colour, of every item, but it probably does have something that will work. And if you are in need of ideas, she has a box of vintage hats under the cutting table that are good fun to look at and try on. I thought these two were fun. The red straw with strawberries and the little beehive of tiny blue tubular crin.
Michelle is also from California. How many people do you think are from California, living in London and making hats? More than two?
And if all of this is not enough, Michelle has a new puppy, that can be found in the back workroom. I am sorry that I didn't get a photo of puppy cuteness.