I have finished my first hat for my husband. I think he looks very handsome in it and you know…. Interesting people wear hats. This hat is a midnight blue fur felt trilby with a simple leather band trim.
Here are some photos of the process… at this point he wasn't too sure about this whole hat thing.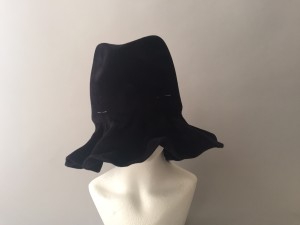 He is still uneasy about were things are going

The brim is being blocked using a brim block that I carved last summer in Jane Smith's block carving class at Morley College.

Jeff is tall and my original crown shape had a fairly deep crevice in the top which made the hat sit high on his head. The combination would have made riding the London Tube a little difficult. I didn't want to carve a new crown block so it was time to do some hand shaping.  I was able to combine steam from my kitchen kettle with an egg iron in a stand (thank you Susie Hopkins), a head block, along with some tips from a great video on hand shaping a hat by Kevin from Pork Pie Hatters. It took some time but looks much better.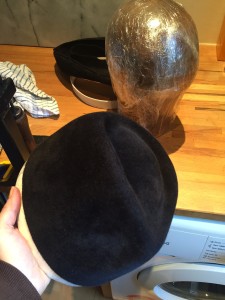 The hat is getting closer and Jeff is starting to believe that it might actually be wearable in public. There was still a significant amount of cutting, brushing, sanding and stitching to go, but I was getting excited to see the finished hat on Jeffrey.

He wore his new hat to the Hidden London Underground tour we took last weekend at the Charing Cross Tube station. It was a good tour and he looked so handsome in his fur felt trilby, despite the high vis vest.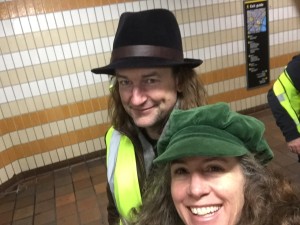 Hatting Happiness is both of us wearing hats I've made. I love my green velvet 8 piece cap with hand dyed silk lining.
and remember… interesting people wear hats.