I would like to introduce, Migration, a hat I made of teal pleated sinamay with hand beaded butterflies and a seed beaded crown. This piece was inspired by a mix of several pieces from the Victoria & Albert (V&A) Museum of Childhood (MoC).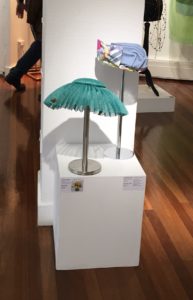 Over the last several months I have designed and made three different hats for three hat contests. Not all the hats made it to the second round of judging, but to my delight I got an email that my hat, Migration, was accepted by the V&A Inspired by… contest and that it would be exhibited at the Morley Gallery in London.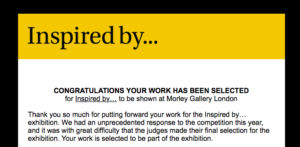 If you would like to read more about my "Inspired by…" entry, Migration. I am in the Exhibition Catalogue on page 3.
If you want to learn more about the UK based "Inspired by…" contest or details on the exhibition Inspired by…2016 is on exhibit from 17 May 2016 – 17 June 2016. Please check the website for the details regarding opening hours.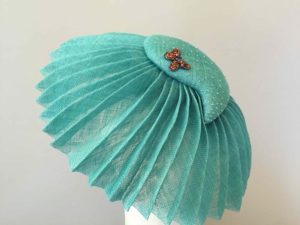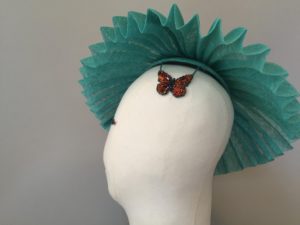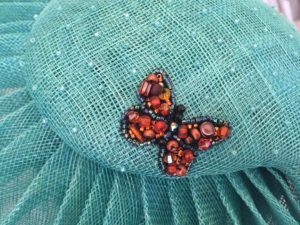 I recently attended the Gallery Preview and Awards night at Morley College. It was a thrill to see a hat I made on display in a gallery. I just discovered a video of the event on the Inspired by…website. My hat shows up around :13 as well as my family and I on the left side at 1:21 for 1 second! It was a lovely evening with good weather, fabulous music, and creative people.
Inspired by… is an event for adult learners throughout the UK to submit photos of a piece of art/craft they have created with inspiration from something in the V&A collection. The V&A is the world's leading museum of art and design, housing a permanent collection of over 4.5 million objects. The V&A Museum of Childhood (MoC) is located in Bethnal Green and where I drew my inspiration for this piece. MoC have effectively created a place that is interesting and fun for both adults and children.
I have been attending classes at Morley College for several years and it is a wonderful place to learn new things and meet people. Many of my friendships have grown from classes at Morley.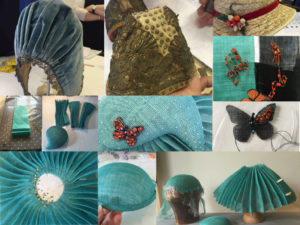 This is a collage of images highlighting the pieces I was inspired by as well as the hat making process.
Inspired by… at Morley Gallery is a small and diverse exhibit, I encourage you to go take a look. It is around the corner from the Imperial War Museum, just a short (5 -15 min) walk from Lambeth North or Elephant & Castle tube stations and Waterloo station.
Loving living in London!
and remember…interesting people wear hats.