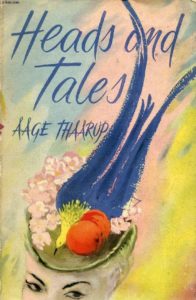 Heads and Tales by Aage Thaarup is a book I saw at Jane Smith's class at Morley College as well as in her workroom, then I saw it referenced in the Forward of Susie Hopkins book, The Century of Hats as part of the forward written by Philip Somerville.  The cover sleeve image alone is enticing enough, but the combination of all three was irresistible. I had to read it.
"I can't go no lower," said the Hatter. "I am on the floor as it is. . . ." Alice in Wonderland
It was an intriguing opening quote. It didn't sound up beat or encouraging. An odd way to start a book.  However by the end of the book, I understood.  The book was first published in 1956 and Aage Thaarup had already experienced a roller coaster ride through starting up a couture millinery business, a World War, money issues and a passion for travel.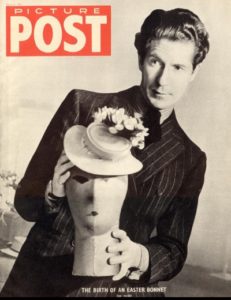 The book is a fabulous collection of stories told by Aage Thaarup that conveys not just his experiences and attitudes but it also reflects a different era. There are many of references to Princess Elizabeth, the Queen Mother and other society ladies.
Aage Thaarup (1906–1987) was a Danish-born milliner who ran a celebrated hatmaking business in London from the 1930s up to the 1970s. His hats adorned many famous and beautiful heads.
He made hats for the Queen Mother and her princess daughters, later one of them would become Queen.

A young Queen Elizabeth needed a hat for Trouping the Colour, which is the queen's official birthday, not to be confused with her actual birthday (earlier this week – 21 April 1926). This would become arguably his most famous hat.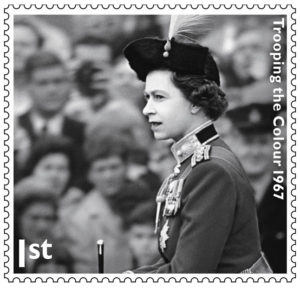 What I enjoyed about the book was Mr. Thaarup's determination and resilience.  Although money management was not one of his strengths.
He was creative, resourceful and brave. Heads and Tales was written while he was trying to recover from his second round of bankruptcy.  He describes how low he was at the time, which clarified why he choose the opening Alice in Wonderland quote I mentioned above.
He seemed to cultivate a good relationship with the press as well as clients and could design with different ends in mind, some for  attention and some for beauty.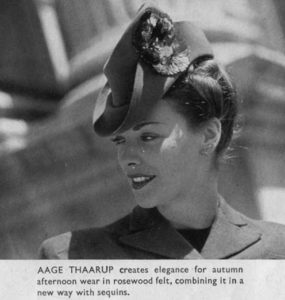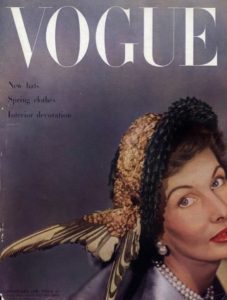 Being from California, I believe California's generally align with Los Angeles, San Francisco, or Sacramento. I am from the San Jose Bay Area, also known as Silicon Valley and the small(ish) coastal town of Santa Cruz and although I am not from San Francisco, I feel like it is my representative Californian city, and thus felt a sense of pride when I encountered the following quote on page 204.
"I flew back to San Francisco, where people were polite, where the waiters side "Thank you", and everybody was rather nicely dressed, as befits a city with a soul."
Other places to see Aage Thaarup and his hats are the V&A as well as some British Pathe films.
The Victoria and Albert Museum (V&A) has a few Aage Thaarup pieces. They have much of their collection online which is an extremely useful reference.
Pink Velvet Hat by Aage Thaarup from the V&A Collection.
Daisy hat by Aage Thaarup in the V&A Collection.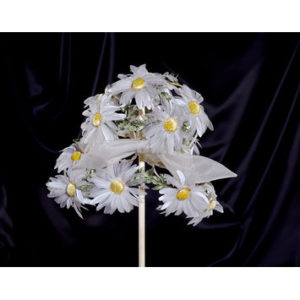 British Pathe films – Aage Thaarup designs a hat to look like Royal Albert Hall on British Pathe.
Which seems odd, until you read his book and realize that for a while he was popular for making hats resembling landmarks after doing a hat resembling the Rangitoto volcano while visiting New Zealand.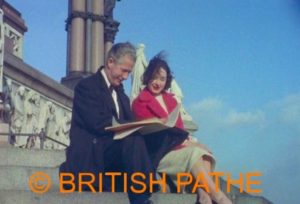 There are several more British Pathe Movies of Aage Thaarup. They are just a couple of minutes and good fun to watch.
In summary, Heads and Tales was an easy read mostly told through anecdotes about travels, clients, WWII, and millinery. It is a reflection of his journey from a small boy in Denmark to a couture milliner in London, starting over again in 1956. It was interesting, educational and inspiring.
When asked which is his favorite hats, "My favourite hat — is the hat I am going to make tomorrow ."
and remember…Interesting people wear hats.