I acquired an vintage hat block this week at Victoria Grant's millinery supply sale. She was having a bit of a clear out.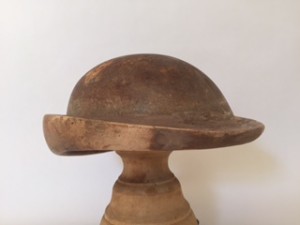 I spotted a lovely old hat block, a modified bowler and I was hooked. However there was tape along the front. I ran my finger over the edge, to see if I could feel any chips. The outside edge felt sound, so I decided to take a chance. All the way home I was envisioning hats I could make with this new block.
However once I got it home and took the tape off, I realized just what bad shape it was in. A chunk of the front brim fell off. Not only that but there was a hole clear through at the transition point between the crown and the brim where the wood was fairly thin. It had obviously been used extensively.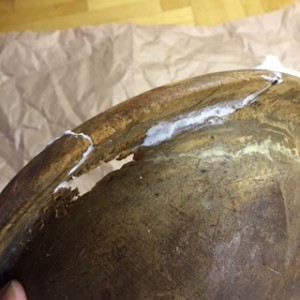 I looked online for some repair tips and was encouraged by Judith M.'s repairing vintage blocks blog post.
I made a 1 minute movie of the process. See show notes below.
I started by dusting the piece off and removing the loose fragments of wood. Then I glued the large piece on with Evo-Stik Wood Adhesive. I held it in place until the glue set.
Once the glue dried I used Ronseal Multipurpose Wood Filler to fill the hole. Several smaller layers is better than one really thick globby one.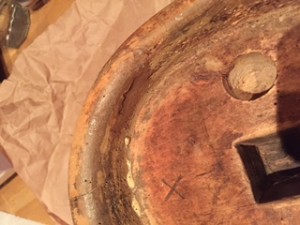 The wood filler did not expand, I just managed to push it through the hole, and finally just figured I would sand off the excess.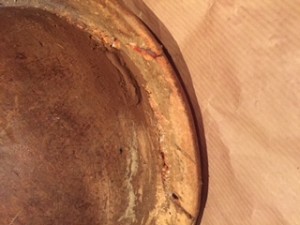 Here are my supplies.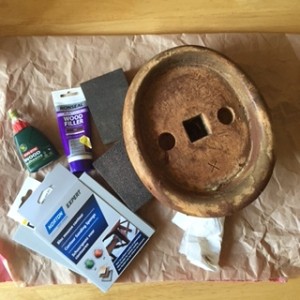 This is after the second layer of wood filler. But before the first rough sanding. The wood was so pin marked and splintery that I decided that the filler may help give it some support as well as smooth out the rough wood surface.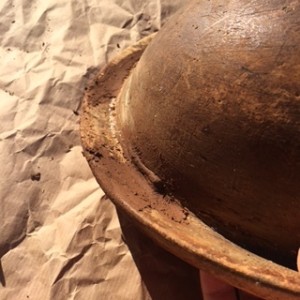 Then I sanded took a break, and sanded some more.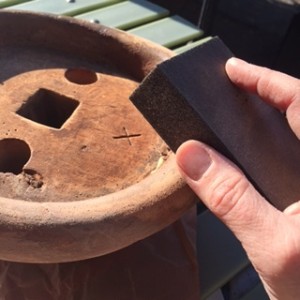 It looks dramatically better. It is not perfect, but I am hoping that it will at least be useful.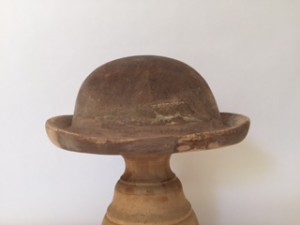 At least there is no longer a hole and the broken piece is attached.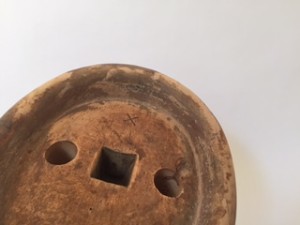 I have never tried to repair a hat block before. At least nothing beyond, wiping them down and putting on a bit of oil for the wood. I am pleased with the results and since I just finished the repairs a couple hours ago, I will let it set a bit longer before putting it to work.
Have you ever repaired a vintage hat block? What tools and materials did you use and was it successful?
And remember, interesting people wear hats.