Liotard was known for his amazing detail in painting the fashion of the day, which was the mid to late 18th century.  The sitters often wore hats and they were painted with fantastic detail which is very interesting for people like me who are a bit obsessed with hats.
Jean-Étienne Liotard exhibit at the Royal Academy of Arts (commonly referred to as "The Royal Academy" has now closed, sorry, but if someone asks if you want to see a Liotard exhibit, do not make my mistake and ask if they mean the stretchy garment that dancers wear.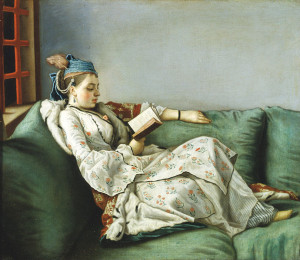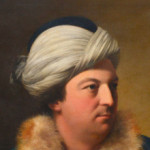 He was know to travel a lot so there are a variety of styles of head wear, of which the turban was featured in many pictures. I am quite fond the turbans, particularly the glamorous movie star style. These images highlighted the many ways of doing the wrapping and folding found in a turban.
Jean-Étienne Leotard was a man before his time when it came to personal promotion. This late 18th Century self portrait shows a large smile, missing tooth, toque hat and turkish style of dress. Another unusual element is that he is not holding a paint brush but instead is pointing his finger. These elements were unique for the time.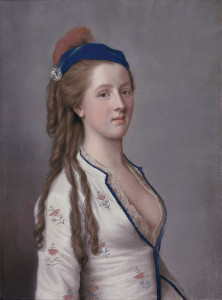 Liotard's use of pastels is also noteworthy,  my friend, Dusia who coordinated the visit, brought to my attention his common use of two specific colors which he uses in nearly all his paintings, a beautiful blue ("rich sonorous blue" or "electric blue", and a salmony red. It is interesting how consistently these colours appear in his paintings.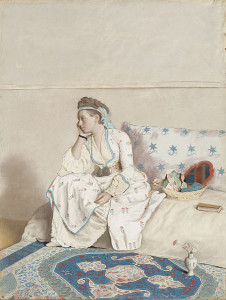 Grown-Up tip – To avoid the sleepy feeling I often get at museums & exhibits, I have discovered that if I focus my attention on a particular interest, such as hats and head pieces, my endurance in greatly improved. I have used a similar technique with my children, by asking them what they are going to look for, or offer a suggestion of what animal they can find.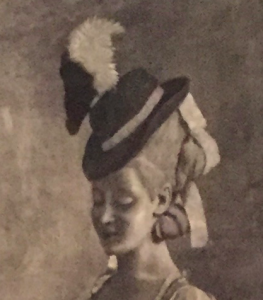 Thank you to Dusia and Kitty, for a fun afternoon of learning and inspiration.
I will keep my eye open for more Liotard paintings. I really enjoyed the subjects, the use of colour and of course the Hats.
And remember, interesting people wear hats.