I have recently discovered the joy of museum collections.  No, it wasn't the my first time to a museum. It was my first time to see behind the scenes at a museum. I did not realize that museums had people who can show you items that are in their collections but not on display.  I owe a huge Thank You to my Morley College hat friends for showing me how it is done on a  recent trip to the Victoria & Albert (V&A) Museum of Childhood to view small straw hats and bonnets.
Recently, I was in California, to watch my youngest son graduate from university.  I reached out to Marla Novo a the Santa Cruz Museum of Art and History (MAH).  I asked to see hats in their collection.  She was very cooperative and I was able to book an appointment to view many hats. Not all museums are this receptive. Some museums require that you are studying in a particular field or have an interest in a specific item.
Many museums have the pieces in their collection available in online catalogues which is a great way to see lots of vintage hats. The Santa Cruz MAH does not yet have their catalog online, but it is a project they are currently working on.  Since I wasn't able to pre-select the hats from an online catalog, I was presented with a binder with paper sheets, known as Composite Object Condition Forms (COC), with a photo and brief description of each hat.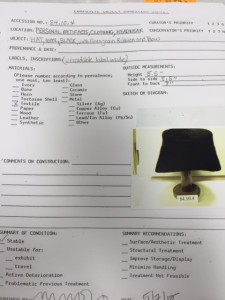 It was a daunting task to choose from what looked to me like a hundred possible hats. I had about an hour and a half of Marla's valuable time and I am not good with decision making.
I had done a little research to see if there were any "Must See" hats in the collection. I had discovered they had a few Kate Handley pieces. She was a milliner in the early 1900's with a shop on Pacific Avenue in Santa Cruz. I am hoping to create a future post about her, however this post is about a mysterious little black felt hat.
The first hat I choose from the binder catalog was a lovely black fur felt topper but it was the second hat that this post is about. What caught my attention in the COC was the shape of the piece in the photo, somewhat of a more angular crowned cloche. It had a basic description, "HAT, WOOL, BLACK, with Grosgrain Ribbon and Bow."  I read the COC in more detail. The "LABELS, INSCRIPTIONS" field intrigued me. It said, " unreadable label inside".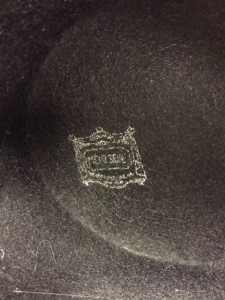 I had hoped that perhaps I would be able to recognized the label or make out some details and thus return some value to the woman and the museum which had gifted me this time and opportunity.
But alas when the hat was on the viewing table and the white gloves were on my hands, I would add little to their sparse information. Other than the "Grograin" ribbon was "Petersham" ribbon. Many hats were to follow with little thought to this little black hat.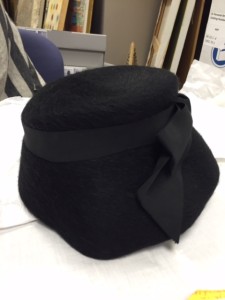 The following day as I waited for the glass to be replace on my phone. This was my 1st broken phone. I was irritated at myself, the time and expense, but  dragging my finger across broken glass was not going to be tolerable for very long.
While I was waiting for my phone to be repaired, I had the opportunity to haunt a Santa Cruz antiques shop on Pacific Avenue, called Goodies. I was looking for anything related to hats; hat stands, hat pins, hat blocks, and actual hats.  Off in a corner they had two hats that caught my eye.  One in particular had a pleasing shape. I took it from the rack and observed the sequins and velvet ribbon. It gave me a feeling of familiarity. I turned it over to see the inside.  It had the stamp. It was a sister to the one at Santa Cruz MAH! A very similar shape, but trimmed differently, as the one the previous day. Except I could read this one.  Glenover, Henry Pollak, New York.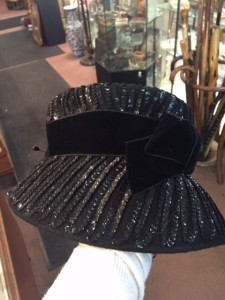 I needed a picture! I needed my phone back! I scurried off to pick it up from its repair and promptly returned to Goodies.  With the shop keepers permission, I took photos of the hat and excitedly emailed them to Marla at the museum.
I felt like I had just found a clue to an important mystery.  I don't know why hats give me such a buzz and this was another new exciting type of hat buzz.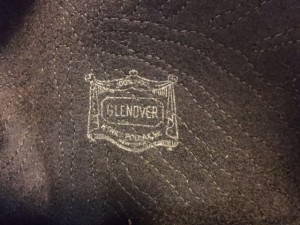 Now, who was Henry Pollak, where were these hats made, and when? Why were there two hats of a similar shape from the same designer from New York in the fairly small city of Santa Cruz?
My following research is not extensive or exhaustive and most of my questions remain unanswered. I found various bits of information but no complete story.
The first millinery reference I found of Henry Pollak relating to the millinery trade was in a 1916 journal called the Illustrated Milliner and the last reference I have found is a dissolution of Henry Pollak, Inc in 1990. I am sure there are many stories during the 74 years of hatting and millinery associated with the Henry Pollak name. I have but a few nuggets gathered.
I observed that Henry Pollack hats appear to be fairly common on Etsy and Ebay with estimated dates of the 1930's through the 1960's.
There were several variations of Henry Pollak 100% wool hat bodies with additional branding of Glenover, Glenover Fawn Tra Felt, Belvedere, Flamand and Ritz.
1948 – The Trademark I recognized was registered in New York.
1959 – Reading Eagle Newspaper, pg 28 in an article about the Union buy out of the Merrimac Hat Factory in Amesbury Massachusetts quotes Henry Pollak. He was described as a sales agent in New York.
1970 – Halston, the American fashion designer and milliner with Henry Pollack Inc., established Halston International, ready-to-wear.
1970 – Legal filing between Henry Pollak, Inc. (the Plaintiff) and the Secretary of the US treasury (the Defendant), related to trade tariffs.
I have enjoyed looking into Henry Pollak and wished I could have found more about the man and the business, but with so many hats to make and other milliners to learn about, I will stop here.  My Hattin Around quest continues, but a Henry Pollak hat will forever catch my attention.
… and remember, interesting people wear hats.