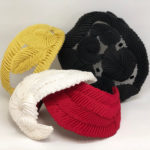 This workshop has been postponed due to the Covid-19 pandemic.
I will post rescheduled London Hat Week dates when they are available
and send email to currently scheduled attendees.
Tuesday, 21 April 2020, 9:30 – 16:30
Short Event Description
Make a mid 20th century cocktail hat wire frame while learning traditional millinery skills and techniques. Wire joins, covering, shaping and trimming techniques will be taught.
Combine this workshop with the Milliner's Ribbon 2020 Pleated Nautilus, Pleated Feather and Folded Cockade Workshop with Leanne Fredrick the previous day for a complete cocktail hat.
Wire frame making and covering materials are included.
Price: £147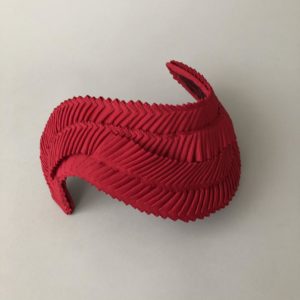 Purpose of the Event
Learn and practice techniques traditional millinery techniques that do not require any special tools. Wire framed cocktail hats are versatile and the technique can be used for more elaborate hats or head dresses.
Full Event Description
Create your own cocktail hat wire frame while learning various techniques with no specialty tools. There will be samples to look at and loads of pictures for inspiration. You will learn my technique for creating a velvet covered wire frame, with a netting/tulle base. Trimming is up to you, but for those who take the Milliners' Ribbon Workshop, can use their Pleated Nautilus, Pleated Feather and other trim elements, that Leanne is teaching on Monday.
Wire framed cocktail hats are easy to wear. It can be worn as day wear, evening dress or as a bridal piece, depending on styling and trimming. This hat travels well and is great for people who like hats, but need something a little easier to manage.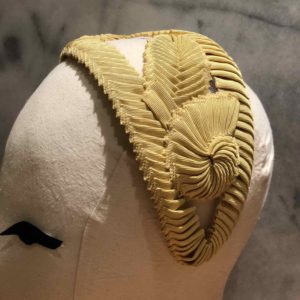 Your Tutor
Leanne is a California born, London milliner, blogger, and inventor of the durable Hattin' Around Hat Case. She is active in the London millinery community, hosts the annual Milliner's Round Table discussion as well as teaches workshops privately, annually at London Hat Week, and internationally. She is the Europe Manager for online international millinery supply company, B Unique Millinery.
Leanne has worked with and learned from the quintessential couture London milliner, Edwina Ibbotson and master theatrical hatter, Jane Smith. She has enjoyed working on a variety of unusual projects from authentic poupées to guard helmet feathers.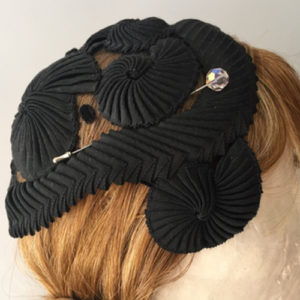 The Details
You will need to be able to hand sew and thread your own needle.
Please bring a basic sewing kit
needles (millinery straws #9 or similar)
thread
thimble
pins
sharp pointy scissors
Optional but helpful:
Wire cutters
Pliers
Safety glasses
All workshop materials are included.
We will break for lunch ( ± 45 min) and I am looking into providing lunch for an additional £10 otherwise, I recommend that you BYO lunch.
Lant Street Wine is a charming venue with authentic vintage charm while also being a wine shop and wholesaler. I hope you enjoy this venue.
Event Venue – updated March 2020
Lant Street Wine – Tasting Room
59-61 Lant Street
Borough, London,
SE1 1QN
UK
Transportation (nearest underground or train station) –
updated March 2020
Nearest Tube station is Borough on Northern Line (1-2 min walk)
Nearest Bus lines
Stop C Borough Station (toward London Bridge) lines 133
Stop D Borough Station (toward London Bridge) lines 343, 35, C10
Stop A Borough Station (toward Elephant and Castle)lines 133, 343, 35, C10
This venue is about 16 minutes from Morley College (walking, bus or tube all take the same amount of time)