Return to Workshop & Event page to book a place for LHW2019.
Passementerie is the art of making elaborate trimming. These flourishes are the historical essence of couture. We will make tassels, buttons, braids, and cord. Think of tricorns, smoking caps, and ceremonial regalia, but they can be used more simply as well, such as the buttons and cord of a fisherman's cap. I will teach multiple styles of tassels, two types of handmade buttons, a decorative braid, and twisted cord. Using your new samples, you will have all the parts to make a beautiful velvet lounging hat (aka smoking cap) in class.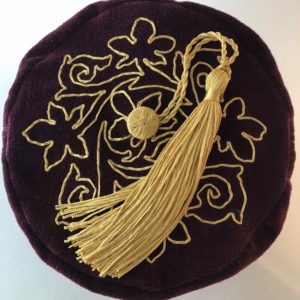 Threading a millinery needle and basic hand sewing is required to make samples and a headpiece. This is little and fiddly, so you will need to bring your patience, strong glasses and nimble fingers. Please bring a basic sewing kit of millinery (fine/sharp) needles, thread, thimble, and scissors. All materials are included.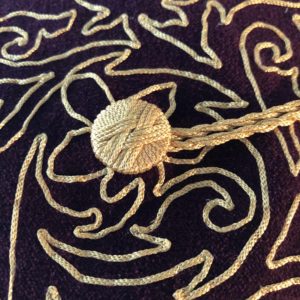 My studio is at the Hotel Elephant – Harper Road. It will be a sneak peak into one of London's art communities. We are not glamorous, the under belly of art often isn't, but I hope you will think it is fun and interesting place.
We will break for lunch ( ± 45 min) and there is a rustic break-room/kitchen in the building. I recommend that you BYO lunch but there are places within walking distance if you want to go get something.