Return to Workshop & Event page to book a place for LHW2019.
Eye catching, the Cockade or Nautilus trims are stunning and adaptable. This hands-on workshop focuses on learning the techniques, tips, and tricks of the Cockade and the Nautilus. We will work with different widths of Petersham ribbon, which is a millinery staple. Practice these techniques and create your own gorgeous headpiece while in the workshop.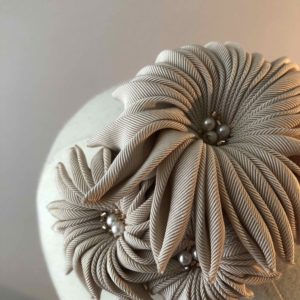 Threading a millinery needle and basic hand sewing is required to make samples and a headpiece. This is little and fiddly, so you will need to bring your patience, strong glasses and nimble fingers. Please bring a basic sewing kit of millinery (fine/sharp) needles, thread, thimble, and scissors. All materials are included.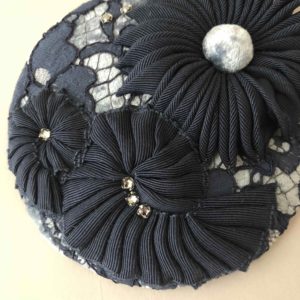 My studio is at the Hotel Elephant – Harper Road. It will be a sneak peak into one of London's art communities. We are not glamorous, the under belly of art often isn't, but I hope you will think it is fun and interesting place.
We will break for lunch ( ± 45 min) and there is a rustic break-room/kitchen in the building. I recommend that you BYO lunch but there are places within walking distance if you want to go get something.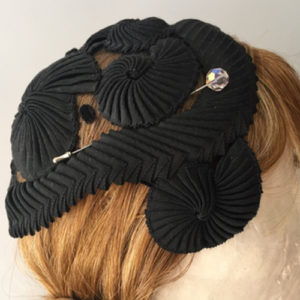 The versatile cockade is very useful.You will learn how to do the cockade, step by step.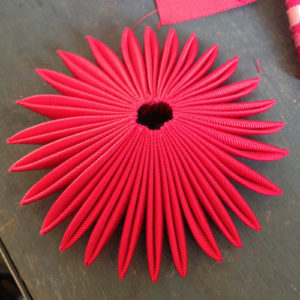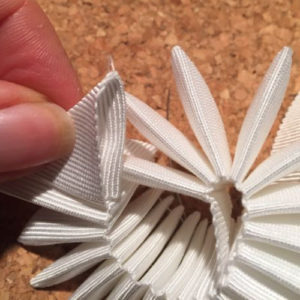 My favorite Petersham trim the Nautilus will also be demonstrated and I will share with you my custom designed template to make it easier to get started.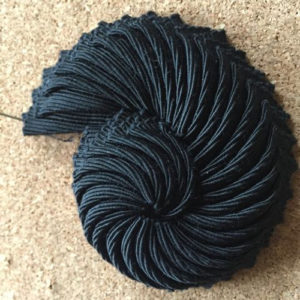 Quotes from past workshops
"Fun, informative, informal"
"It was step by step easy to follow and the samples are inspiring"
"Generous teaching. Generous sharing of making secrets. Thank you so much"
"It was great & demystified the art of ribbon work."
"I could have stayed all day"
"The hand outs were very comprehensive & full of great info."
"Leanne's samples and step by step guide were great to follow."
"Leanne's wealth of info delivered with such enthusiasm – loved it all."
"Friendly, informative and well-organized"
I liked "using traditional skills & looking at Leanne's beautiful pieces as an inspiration of what can be done. A great workshop."